Based in Manchester, Boyle's Pet Housing manufactures quality rabbit hutches, runs and enclosures, both outdoor and indoor, tunnels, boxes and bespoke products...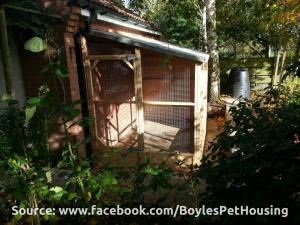 Boyle's Pet Housing
was formed by Daniel Boyle who wanted to help improve the welfare of small pets that are often neglected and left alone in small pet housing.  Each product is designed and hand built in their workshop in Warrington, offering a truly bespoke service.
Daniel says:
"When designing our products we take into account how the pets use it so that we can manufacture something they will truly enjoy; the size, shape and style of the product is built for the pet it's designed for.  We do this because we believe every pet matters and deserves a long and happy life"
We agree!  The majority of rabbit hutches available from major retailers are not fit for purpose.  They tend to be far too small and flimsy, while still costing a considerable amount of money.  Often they have no option to attach an exercise run.
Boyle's Pet Housing is a member of The RWAF's Hutch Retailer Charter, which recommends a 6ft x 2ft x 2ft hutch with an attached 8ft run as a minimum living area for 2 rabbits.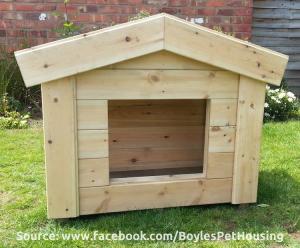 As well as very large rabbit hutches, runs and enclosures, they also manufacture a great range of hiding boxes, tunnels, digging boxes and indoor rabbit enclosures.  Have a browse through their Facebook page photo gallery for some great examples of 'thinking outside the box'.

Boyle's Pet Housing delivers throughout the UK and products can be installed at your home if required - please contact Daniel for further information.
Treat your rabbits and support Camp Nibble rabbit rescue in Leeds

Please quote 'CampNibble01' when ordering for a donation to be made