The artist Kelly Anderson produces beautiful personalised artwork, all proceeds going towards rabbits in need at her rescue, The Anderson Shelter
I met the very talented artist Kelly Anderson through Facebook and have been hankering after one of her pet portraits ever since.  There are many artists advertising personalised pet portraits online but rarely are they of this quality and detail and, most importantly, she truly captures the character of the animal.  The price of a commission is very competitive and, the cherry on the cake, it's all in aid of a good cause.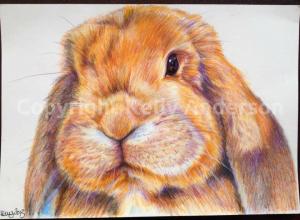 This image of Henry (reproduced here by kind permission of the owner) is just one of many beautiful bunny portraits which Kelly has produced - you can see more of her work on her
Facebook page
and also check out some lovely photos of the rescue rabbits who this work is in aid of.
Kelly runs The Anderson Shelter from her home and, with a current population of 14 rescue rabbits, is always in need of funds to pay for vaccinations, neutering and other routine treatments, not to mention the inevitable rabbit emergencies which always come along.
So hop on over and have a look!  You can contact Kelly via her
Facebook page
for further information on prices and commissions.