Bunnyhugga has a fresh new look for 2013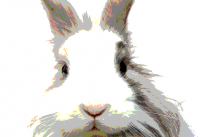 We've been busy over the holidays and given Bunnyhugga a fresh new look.  This is our first major redesign since our launch at the start of 2010, nearly 3 years ago now.
The new Bunnyhugga is HTML 5 and adaptive to all mobile and tablet screen sizes.  So it should be easier to use and navigate, even when you're browsing on your mobile.
We also have several new features and are excited about our latest big project, a map of rabbit resources worldwide which is coming soon.  We'll need your help with this so stay tuned!
In the meantime, we'd love to hear your feedback on the new site - what you like, what you don't like, any suggestions for improvement... and if you come across any bugs, please let us know.
We hope you enjoy your new and improved rabbit resource and Happy New Year!
Are you linking to us?
Please check your links!  All articles in our A to Z and Fun sections now have new URLs - we've put redirects on the most popular pages.