Hay Fever is part 1 of the RSPCA's new rabbit welfare campaign, focusing on the importance of hay in a pet rabbit's diet
To quote ourselves, "feeding the correct diet is the single most important thing you can do to keep your rabbit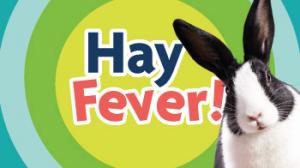 healthy".  This is the focus of 'Hay Fever', part 1 of the RSPCA's rabbit welfare campaign 'What Bugs a Bunny?"
Many rabbit owners are unaware of the importance of a high fibre, hay based diet, believing instead that rabbits should be fed mostly dry food (muesli or pellets) and yes, of course, carrots!
The RSPCA aims to debunk these myths and many more and to generally improve the level of knowledge amongst rabbit owners in the UK.
You can read more about the campaign
here
and stay up to date with the latest news from the RSPCA by joining their rabbit community.