Popcorn Prints began life in November 2011 with guinea pig design T-shirts, has since expanded into rabbit and hamster designs, and does great welfare work for our small furry friends...
It's always great to meet someone who is truly passionate about what they do and we were delighted when Popcorn Prints contacted us recently to tell us about their work.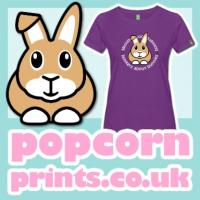 Popcorn Prints began life in November 2011 when its founder Louise couldn't find any guinea pig design T-shirts online that she really loved.  So she made her own and we're very glad she did!  Her designs are fresh, clean and modern and with a wide range of products from T-shirts to bags, umbrellas to aprons, you're sure to find the perfect gift for the guinea pig lover in your life.
And now good news for Bunnyhuggas!  Popcorn Prints have expanded their range into bunny designs, including 'Bonkers for Bunnies', 'Pooping Heart Rabbit' and 'Keep Calm and Binky On'.
In addition to all this, Louise has still found time to do some fantastic work for guinea pig welfare, designing logos free of charge and producing designs for great causes such as the
Guinea Pig Welfare's 2012 'One is Not Enough' campaign.  View all Popcorn Prints' fundraising ranges here.
Stay up to date with all the latest news and designs from Popcorn Prints on their Facebook page.  This shop ships to the UK and Europe.  For USA, Canada, Australia, New Zealand and Asia visitors - please follow the link from their homepage.