Rabbit Awareness Week (RAW) is an annual event where rabbit experts such as vets, pet retailers, welfare charities and manufacturers work together during a dedicated week to educate the pet owning public about proper rabbit care and welfare...
 Rabbit Awareness Week (RAW) is coming!  The dates for this year are 4th to 12 May 2013.  This annual event has been running for several years now and is getting more and more positive press for its role in raising rabbit welfare across the UK.  The official RAW partners include Burgess Excel, Panacur Rabbit,
RSPCA
, PDSA, The Blue Cross,
Rabbit Welfare Association and Fund (RWAF
) and Wood Green The Animals Charity.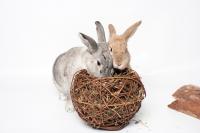 Visit the
RAW website
to find an event near you or a vet offering free rabbit health checks during the week, to find information on diet, health, behaviour and environment, or just to play some of the fun games or see some of the cute rabbit pics.  Last year Buddy and Cleo (pictured) were chosen as the official rabbit faces of RAW and they're doing a great job, even when tackling a toy as giant as this one!
The buzz this year is all about the research carried out at the University of Edinburgh into the effect of rabbit muesli type food on dental health.  According to the RAW website, 75% of rabbits seen by vets are diagnosed with dental problems.  This is a huge proportion and, of course, doesn't account for the many rabbits in the UK who still do not receive regular veterinary treatment.
Following the trial there is now statistically significant evidence that feeding a muesli-style diet, with or without hay, can result in an increased risk of dental and digestive health problems such as:
Poor gut motility

, which can put rabbits at a high risk of gut stasis, a condition which is often fatal

Eating less hay

, which can lead to abnormal growth of teeth that could develop into painful dental disease.

Lower hay consumption

also results in reduction in water intake, which in turn could lead to urinary tract stones or sludge.

Not eating all their caecotrophs

, meaning they may not get all the nutrition they need and uneaten caecotrophs may become matted in rabbits' fur, putting them at risk of dermatitis and fly strike

Selective feeding

(where rabbits pick out their favourite pieces rather than eating the whole portion), which can lead to an imbalanced diet lacking in vital vitamins and minerals.
The research has also shown that eating muesli-style foods without hay causes rabbits to become overweight or obese, which can also lead to health problems.
Please visit the
RAW website
for full details of the research.
As a result of this research, Pets at Home have recently announced that they will be withdrawing muesli type rabbit food across all their stores.  This is excellent and definitely a step in the right direction, so congratulations to RAW and their partners.
Here's to a great RAW 2013!